Wow - it's been two weeks since I did this. Last Thursday I was caught up in the combined craziness of work and school...
But I'm back for this week!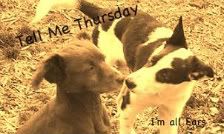 Going Forward what are your goals for the next 6 months?
Good question! I like setting goals - it gives me something to aim for!
For me
-Have a total of 16 patterns up on Knit Picks (shameless plug alert -
Puppy Love Socks
went up today - squee!!)
-Further develop and market
Woolie Dogs Tugs
- Start writing a book - right now I'm leaning toward doing one with with my knitting patterns and the stories behind them.
(I would dearly love to be self employed by the time I'm done with school, or at least have a good part time income)
- Finish 11 more hours of college and be well into the next 11-14 hours
For the dogs
- Get Kipp to where he can help me with barnyard chores
- Get Kenzi certified as a wilderness SAR dog
- Perfect the recall and the "leave it" command -They've both got one, but I want a nice, sharp, head spinning recall and leave it from both of them.
Those are the goals - It'll be fun to look back 6 months from now to see how I did!