I've been reading the past couple of posts on
Crooks and Crazies
and decided that I want to play along this week - because it's fun being random and reading about other people (and realizing that there are people just like you that have like 3 crates for each dog).
So here goes -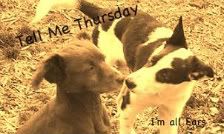 1. In sheepdog training (or lets call it *any* type of training), how do you keep from taking yourself, your dog, your lack of progress too seriously?
I like serious when it comes to my dogs, I really do. Love the "let's go get the job done" mentality. Thank you Kipp!
But then I also ended up with a dog like Kenzi - Seriously, could you stay serious with a face like that looking at you?!?
And just for kicks, train some weird random behaviors every once and a while - like how to walk up stairs, backwards. Hey - as long as I have a happy go lucky dog, I might as well do something crazy with her.
These sort of thing really help you not kick yourself too hard when your dog forgets a couple things during SAR evals...
2. How many crates do you have? For reals.
I have six - you never know when and where you might need to stash a dog
.
And look at the bright side - when I get a new dog, I won't need to buy a crate so I'll save money then...
3. How do you keep your dogs in shape?
I usually like to run then in the field, but that is overgrown with corn and soybeans right now. So I bike with Kenzi and play ball with Kipp (who doesn't seem to understand the purpose of biking)


4. Who is your favorite movie/tv star eye candy at the moment?
eye candy, sheesh. I'm in school, I have sheep, two Border Collies (I know - hardly any) and work on the side and design knitting patterns for fun. I haven't thought about eye candy for a while. But I've been catching up on the White Collar series and that Matt Bomer guy is kinda cute...


5. What is your livestock situation? Have your own? Borrow? Herd the cats? (You can subsitute other equipment for livestock if you don't work stock with your dogs)
I have Sheep! That's why you get Border Collies, right? :D I'm currently down to 7 ewes, a ram and 5 lambs. And yet I don't work either dog on them right now. That was Missy's job and she did really well for me so I stuck to SAR for K&K. I'll be working on remedying that in the near future... Stay tuned.
Kipp would dearly, dearly love the opportunity to herd cats but he was over the top obsessed with it when I got him so I don't let him go there anymore...